Hamper Review: "The Aussie Coeliac"
December 13, 2018
Written by Ashlee Adams (The Aussie Coeliac)
http://www.aussiecoeliac.com.au/gluten-free-joy-gourmet-gift-hampers/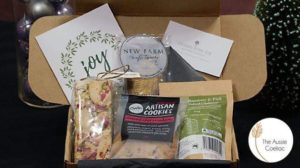 Note: This Gift Hamper was sent to me as a thank you for sharing in Gluten Free Joys Giveaway. I was not expected to do a review of the hamper or its services. My opinions are 100% honest.
On December 10th Gluten Free Joy, a fellow Coeliac Foodie and Blogger launched her Gluten Free Gourmet Gift Hampers. Based in Queensland, Australia, Jane also strives to bring some 'gluten free joy' into the lives of those living with Coeliac Disease. She has organized events, tours and more. With her most recent achievement, of course, launching her gluten free hampers with dairy free and vegan-friendly options. With over ten different options with prices starting at $35 they are a unique and thoughtful gift for the foodie in your life.
Each hamper comes in a box tied up with ribbon, its contents encased in tissue paper. The design is simple, elegant and really has a bit of a WOW factor about it. Inside each hamper, there is a complimentary gift card that you can customise with a personal greeting. There are four boxes that will cost you $35, these include a dairy free and vegan-friendly option. These boxes contain four products each. I myself, received the Just Because box – which is a simple way of saying thank you for being in my life.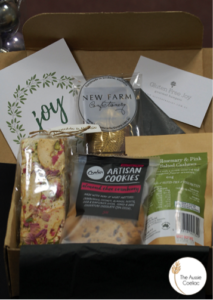 Bramble & Hedge
Inside as mentioned there were four products, perfect for snacking on. The first thing is the Bramble & Hedge nougat. Made in Melbourne, the company creates some fantastic treats. The nougat bar is gluten free by ingredient and when you head to the website they state that they are gluten free. I can't wait to try this flavour. I can't say I have ever had anything like it before. Anyone you send this to is sure to love it. This bar online costs $15.95.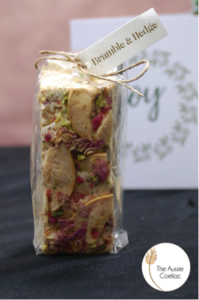 Charlie's Cookies
Next in the box is a delicious Charlie's Cookie in Almond Choc and Cranberry. This is one of the two gluten free options that Charlie's have in their individually wrapped range. The cookies are a decent size and perfect for a little sweet treat. I think I might have mine tomorrow for my afternoon snack. You can purchase them in a bulk pack of 13 on their website.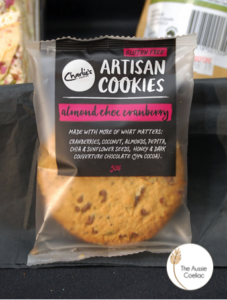 New Farm Confectionery
I didn't need another reason to eat more chocolate but this was a really lovely treat to include in the box. The New Farm Confectionery chocolate bar is made in Brisbane and is labelled gluten free on the back. They seem to make a lot of delicious treats but this chocolate bar is a good introduction to the brand. It has beautiful gold pigment on the leaf decoration which makes it seem a little more decadent. I am not ashamed to admit this was the first thing from the box that I ate. Quite a few of their treats are included in the other hampers that Gluten Free Joy offers. A bar will cost you $8.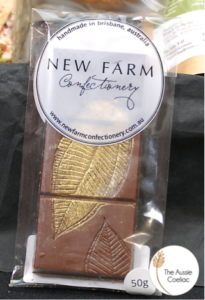 Whisk & Pin
Finally from our very own Blue Mountains we have a delicious nut pack from Whisk & Pin. Again another great snack option and one that I have today to cure my three-thirtyitis. These are 100% natural, gluten free and high protein. You could even add these to a grazing table over Christmas if you wanted to share. I don't want to share, but that's up to you. This 60g pack isn't on the website so you can only get it in hampers. They do have a 125g pack though which will cost you $10. Going over all the products, this box is really good value as well as adorable and delicious.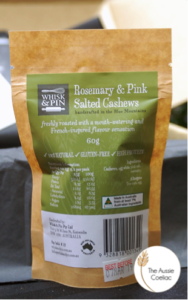 Aside from the $35 boxes, there is also a medium size that ranges from $50 to $55 dollars. These seem to have five to six products in them. Finally, the large hampers start at $65 and peak at the $100 entertain me hamper*. You can view all the hampers and their contents on the Gluten Free Joy website before deciding. The cut off for Christmas shipping to some Australian areas is December 17th. So if you are looking to get another gift this Christmas I would recommend ordering today. I certainly had a smile on my face as I opened this hamper, it felt special and exciting.
I'm not sure what it is but I love getting hampers, it means that it is something I can eat and use rather than something that might sit on my shelves for the next several years. Trust me if you have a foodie in your life, a hamper exactly like this is a great way to go…
Until Next Time;
Ashlee; The Aussie Coeliac.
 * please note hamper inclusions and pricing has changed since this review was written
A HUGE thank you to Ashlee for her HAMPER LOVE! She provides a wonderful resource to the coeliac community through her many reviews of gluten free venues and products. Be sure to follow the link above to check out her blog!    Jane x
View the full hamper range HERE